Jewells 'n Wood

Personalized Wood Carvings of Songbirds, Shorebirds and Waterfowl
by Ken Jewell, Bird Carver
Featured Carving: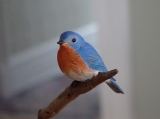 Ken Jewell's Bio
Ken Jewell has been carving for over 10 years and his love of birds and nature is evident in each one of his pieces. His decision to take Ornithology as one of his electives in College was just the beginning. Since then his interest and love for our feathered friends has grown into a truly life-long passion.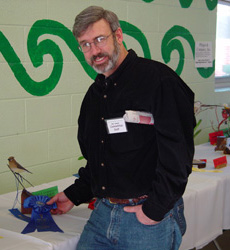 "Carving" his birding experiences seemed to be a natural step for him after he visited a decoy show with his wife in Amityville, NY. He watched the carvers in the competitions at the show and got caught up in the excitement of creating birds out of wood.
Since then he has competed in several shows including the World Show in Ocean City, MD; the Toms River Show; and the New England Competition. In each oneof these shows he has been awarded several ribbons including "Best in Show" in his category.
Even though he finds competition a lot of fun, itís also important that he maintains his own level of quality in his carvings and shares his creativity and love of birds with others! Each bird Ken carves, captures the spirit and personality of the birds that he has observed in their natural environment.
Ken is currently taking on commissioned assignments for celebrations of special occasions such as birthdays, anniversaries and holidays!
---
Please take the time to review some of the birds I've carved which are featured on this web site. If your favorite bird isnít in the gallery or if you have any questions at all, please feel free to contact me.
Thanks,