Jewells 'n Wood

Personalized Wood Carvings of Songbirds, Shorebirds and Waterfowl
by Ken Jewell, Bird Carver
Featured Carving: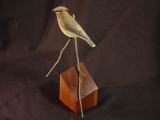 News & Press
Ken's work has drawn the attention of various media sources. Below is an article featuring Ken and his work.
He Has A Way With Birds
Early retirement, affords Fair Haven resident time to pursue his passion
The Hub, February 22, 2002
By Gloria Stravelli
Staff Writer
The sharp rap on the head smarted and Ken Jewell called out to his bird watching partner, "What'd you do that for?" But his companion was far off, and it took him only an instant to realize he'd been smacked by an annoyed owl -not surprising to Jewell, whose intimate knowledge of bird behavior imbues his award-winning bird carvings with lifelike realism. "I thought it was the guy I was working with. I was startled, but I realized he was nowhere near me," Jewell recalled. "A great horned owl had hit me." Jewell's wood carving of a cedar waxwing perched on a bare branch recently took Best in Show in the intermediate decorative life-size category at the Ocean County Wildfowl Art and Decoy Show in Brick, and his lifesize carving of an eastern bluebird has won honors at several shows, including honorable mention at a worldclass competition.
"I'm doing exactly what I dreamed I'd be doing when I retired," said the Fair Haven resident, who opted for early retirement from his career with a telecommunications company in July. While Jewell has been carving wooden likenesses of birds for 10 years, he's been a student of the small, winged creatures since an elective course at Hofstra University, Hempstead, N.Y., sparked his passion for birds and gave him an expert mentor.
"I took a course in ornithology, and my professor was Robert Johnson. He was a big, tall farmer type who was involved with ecology before anybody else even knew what it was," he said."He took me under his wing because I took to ornithology so quickly," he explained. "I'd never heard of a tufted titmouse or a chickadee." A field trip with Johnson proved to be an epiphany."When we went on our first field trip, here was this lanky guy running through the woods, looking for birds. I thought it was hilarious," Jewell recalled. "But when I looked through the binoculars, I saw the birds had beautiful colors. The more I watched them, I realized they all had personalities."
Jewell spent several more years immersed in bird studies, including a stint as curator at a bird sanc-tuary on his native Long Island, developing an understanding of the physical nature of birds and their habits.
"I was taking pictures of birds in Jamaica Bay Wildlife Refuge," he said. "It was fun flying to capture the personalities of the birds. They're so close to the environment."For tiny animals, they're so resilient to the elements," he noted. "They're practically lighter than air; they're such simple creatures."Birds are a good source for us to learn what is good or bad about our environment. There's a connection there, and I just love to watch them," he added. During a hiatus from bird studies, Jewell took a job with a telecommunications company that eventually turned into a 21-year career during which he met and later married Laura, his wife and companion birdwatcher.
When the pair attended a decoy show in 1988, Jewell discovered the connection between his love of birds and his skill as a woodcarver, a talent he had developed as a student of a luthier (maker of stringed instruments).A lifelong lover of music, Jewell's other passion is banjo playing. He is accomplished at playing the five-string banjo, three-finger style, basic to bluegrass, and is a member of the Barn Burners, a group that plays locally at venues including the Clearwater Festival and the Dublin House in Red Bank.
Through retirement, Jewell, who is passionate about banjo playing and wood carving, is being afforded the time to do both and to pursue his goal of carving as many songbirds as he can. Jewell's wood bird carvings begin as blocks of tupelo wood, a species native to Louisiana. The process of turning a block of wood into a lifesize 4 or 5 inch replica of one of his beloved birds begins with sketching a profile of the bird on paper and then transferring it, aligning side and top views, ontothe block. "You have to capture the shape," he explained. "When I see a bird, I see a silhouette and I know what it is right away by the outline." The next step is to cut out the outline with a band saw. Then, using either tools he makes or dental tools, he roughs out the basic shape of the bird.
Jewell keeps picture files on every type of bird and, as he works, refers to the pictures he places on his workbench."I tend to work on the face first," he explained. "Usually after you're done with the face, you have the personality. Then everything kind of falls into place." While he's carving, Jewell is thinking about painting the bird. He makes a color chart and lines up the paint tubes he will use on his workbench.
"It's a living process for me, he explained. "I look closely at pictures. I study details like the color of eyelids. There are things you look for — color gradations. You have to do that; otherwise, it's going to look flat."
Adding layers of detail, Jewell creates the delicate texture of feathers with a burning tool. For every feather, he carefully carves in the center quill and then creates the illusion of the barbules the feathers are composed of.
He draws deeply on the knowledge he's gained over years of observation."You have to understand the anatomy of the bird," he said. "They are made up of hollow bones and feathers. You have to make it light enough so it can get airborne."
Perfection isn't what Jewell is after. "Nothing's perfect in nature," he noted. "When you see a bird, you'll see the feathers are not all perfect, and some are ragged. I carve it, and then sometimes I rough it up a little to give the illusion that it's puffed up. And I put nooks and crannies into the body where the paint will collect to give a three-dimensional impression."
Painting is a complex, painstaking process of blending colors and repli-cating the natural gradations in color that are important to the real-ism characteristic of his carvings.The woodcarver draws on his observations of bird behavior to bring the carvings to life.
"As I'm carving, I'm thinking about how I see the bird in the wild," Jewell explained. "Bluebirds sit on stumps or on power lines. They're always overlooking a field. And the cedar waxwing is usually sitting calmly on a branch. All of a sudden, he'll turn and pop a berry in his mouth."Even the perches are replicas that Jewell duplicates by using a core of brass or bronze tube covered with epoxy putty, which he also uses to create details like berries and pine cones."What I'm trying to do is recreate the experience of the bird I have seen out in the field," he noted. "That's really what it's all about."
The decision to work on a particular bird is serendipitous, he noted. "I'll see a picture or see one outside and be so struck by the experience that I want to capture it in a carving," he explained.
While his carvings are not yet for sale, Jewell accepts commissions like the pair of cardinals he is carving as a donation to a Junior League fundraiser.
Through his carvings, he hopes to encourage others to see birds the same way he does."I would like to share my appreciation of birds," he said. "There are species that are dying off. There are birds that are not going to be around in the future, and I think people ought to stop and look at them. Slow down and look at what's around you," Jewell advised. "This is a planet we all share, and there are some beautiful things around us.
"Just think about how many bluebirds are out there," he said, "with 'the sky on their wings'."