Jewells 'n Wood

Personalized Wood Carvings of Songbirds, Shorebirds and Waterfowl
by Ken Jewell, Bird Carver
Featured Carving: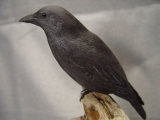 Ken's Banjo & Bluegrass Page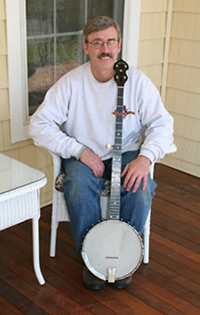 Besides Wood Carving is Ken's love for the 5 String Banjo, Bluegrass, Celtic and other genres of music. The heart of this love stems from when his Dad played Kingston Trio Albums and he heard Dave Guard's banjo solo on the MTA. The first time Ken saw anybody play the banjo was when he watched Larry McNeely on the Glen Campbell Goodtime Hour one Sunday night back in 1970.  
Ken was hooked and ditched the electric guitar for any information, on the Banjo, especially Scruggs and Bluegrass music. He learned a couple of fiddle tunes (Keith Style) from Tony Trischka's Melodic Book but then sought help from banjo great, Marty Cutler. Marty set him on the straight and narrow. After a couple of years with Marty he then took lessons from Tony Trischka.  He's been in several bands including the "Pep Boys", and "Out of the Blue" on LI, NY and played for awhile in the Boston area as well. 
He's currently a member of the "Barnburners" playing backup Celtic Guitar, Mandolin and Banjo in the NJ area for the past 15 years and now co-hosts 90.5 FM The Night's Bluegrass Jam on Sundays 10am - 1pm along with Randy Bailey and Heidi Olsen. 
His big love is also giving back to his banjo students. "Teaching is a two way street and an activity which I get just as much of enjoyment out of as my students hopefully do!"